twissis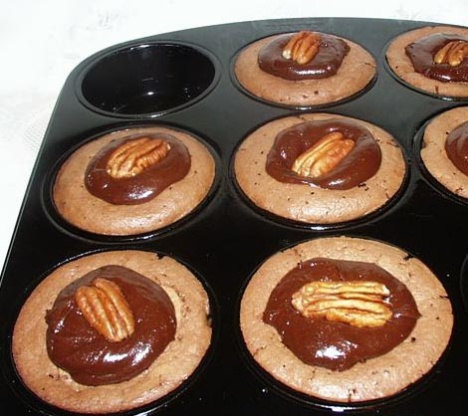 Got this recipe from the Chocolate Lovers Cookbook. My mom used to make these for me and my brother.

I adore these lovely chocolate muffins! For their wonderful flavor & texture + such an easy prep, they clearly deserve 5*. BUT I wonder if the recipe is correct (complete might be a better word). They were fairly flat & their centers fell somewhat during the late stage of baking & the cooling. This has happened to me only when a recipe should have used self-rising flour or had baking powder or soda as an ingredient. If they are supposed to be flat, I would like to know so I can revise my rating. I do advise using paper liners as they stubbornly seemed overly fond of my muffin tin. Thx for sharing this yummy recipe that I made as a PAC choice & combined w/your Recipe #233736. :-) ... Edited to Add: The empty muffin spot in the pic was my taste test. :-)
Melt butter.
Mix together sugar and cocoa and add to melted butter.
Add eggs and vanilla.
Add flour by hand (Batter will be thin).
Pour into paper muffin cups.
Bake 20 minutes at 325 degrees.