Chocolate Mousse With Exotic Spices
WiGal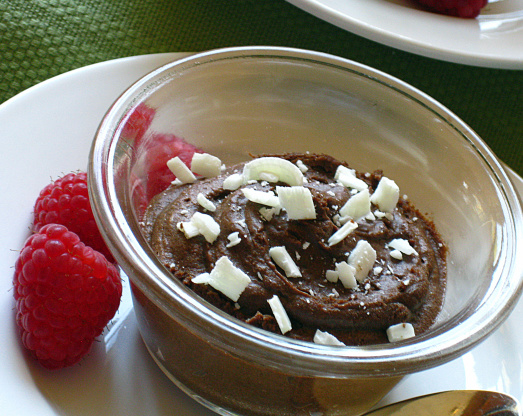 For chocolate lovers and perfect for Valentine's day. This is from the Madame magazine. I think it's for 2 servings.

Top Review by WiGal
Delectably divine! Perfect blend of flavors-love cardamon being the Swedes we are. Rich but small portions. Hubby and I thought that was fine-a little dessert is better than none. LOL! If you look at my pic, I used a half cup custard cup for each portion and I measured the filling- it is one third cup for each portion-a total of 2/3's so you need to plan your serving dishes. Thank you Boomette for sharing.
Melt chocolate in a heat-proof bowl put on a saucepan with warm water (not boiling). Personnaly, I would melt the chocolate in the microwave. When the chocolate is melted, remove the bowl from the heat, and add the butter while whisking.
In a small saucepan, mix cream, sugar, spices until sugar is dissolved. Put the small saucepan on low heat and cook until there is bubble around the saucepan. Remove from the heat, add the egg yolk while whisking.
At low heat, heat this mixture (don't let it boil), stirring until enough thick to coat a wooden spoon. Add this mixture to the chocolate mixture by passing it through a fine sieve. Add vanilla and whisk until bright and unctuous. Let cool.
Beat egg white until soft picks. While beating, add icing sugar. Add slowly to the chocolate mixture and stir well.
Pour the mousse in ramequins or any small bowls. Put in the fridge for 4 to 6 hours until set. You can keep them in the fridge up to 2 days. If wanted, garnish with whipped cream.