Rita1652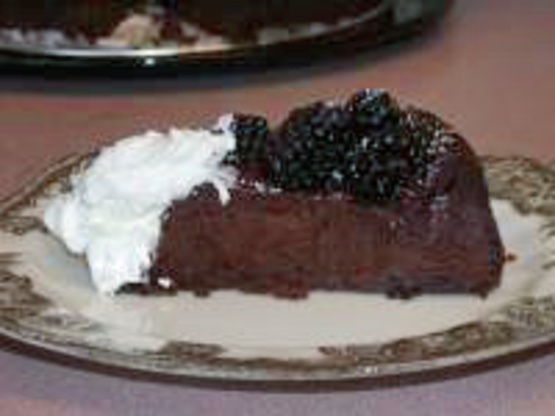 This is very rich. For chocolate Lovers.Topped with fresh berries and a touch of whipped cream. Or simply dust with powdered sugar. The picture show the process of making this sinfull cake. First picture is Step #2. Second Picture is step #4. Third Picture is step #12. Fourth is batter in prepared pan step #13. Fifth picture is the cooked cake as you see it it is to be sunken in.For this is a very dense rich cake and once you top it with fresh berry and a dallop of whipped cream you`ll know what I mean! Sixth is the final cake topped with berries of you choice or whats in season.

This was great! Took ao many steps but well worth it for the perfect chocolate mousse cake which got me lots of compliments...even from my husband!
Grease 9-inch springform pan line with parchment paper grease and flour paper.
Stir water, sugar, corn syrup and flour in heavy saucepan.
Cook on low heat until sugar is dissolved, stirring constantly.
Add chocolate, vanilla and salt.
Continue cooking until chocolate is completely melted stirring constantly.
Remove from heat.
Add butter; stir until melted.
Transfer mixture to large bowl.
Refrigerate 15 minutes or until mixture has somewhat cooled, stirring occasionally.
Add egg yolks to chocolate mixture; stir with wire whisk until well blended.
Gentle fold in egg whites.
Fold in whipped cream.
Spoon into prepared pan.
Place pan in larger baking pan, then place on center rack in oven.
Carefully pour boiling water into larger pan to come halfway up side of springform pan.
Bake at 350°F for 50 minutes or until mixture is just set.
Run small knife or metal spatula around rim of pan to loosen cake; cool before removing rim of pan.
Cover top with plastic wrap; refrigerate 4 hours to overnight.
Center will fall. A prefect bowl for berries!
Garnish with fresh berries and whipped cream.