Marilusa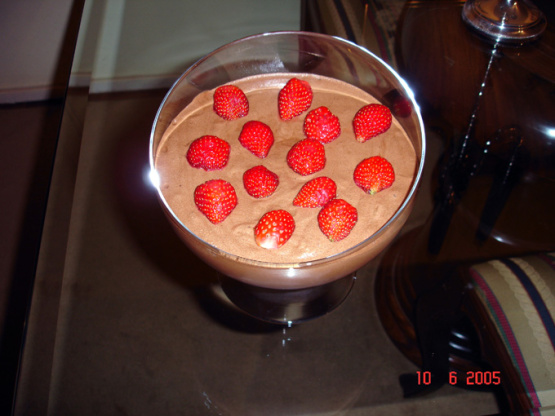 My family's favorite! The recipe is Brazilian and it's in the family for a long time. It's not very sweet and it's easy to make. Enjoy it!
200

g semisweet chocolate

7

eggs, separated

7

tablespoons sugar (1 for each egg white)

2

tablespoons dry port wine
Melt chocolate in a pan over hot water. Reserve it.
Beat eggs yolk until lighter and fluffy. Add, little by little, the melted chocolate to the eggs yolk. Mix well.
Add the Port Wine. Reserve it.
Beat eggs white until hard peaks. Add suggar to it and mix well.
Add chocolate mixture to the eggs white and suggar. Mix it by hand and smoothly.
Put it in a bowl and refrigerate it.
Make it one day ahead.
Decorate as you wish.