Chocolate Mocha Walnut Pudding Cake
Annacia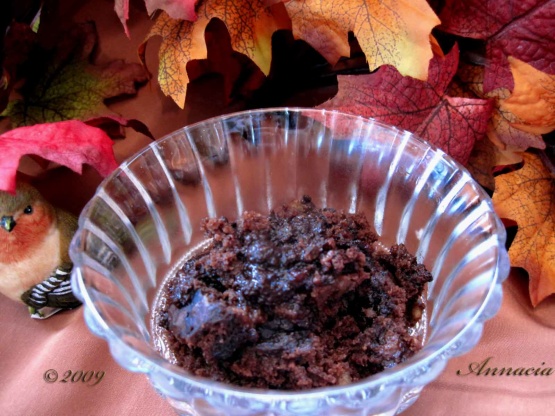 This cake is a cinch to make and will surely please any chocoholic or coffee addict. Serve with vanilla or coffee ice cream. The more the cake cools, the thicker the pudding will get. From Washington, DC pastry chef Peter Brett.

The flavor in this is very good. Nice and chocolaty. I don't often make pudding cakes because I think I'm lacking the pudding gene. I didn't get pudding(again, lol) but I did get an 'almost" pudding bottom, which is a lot better than I often do. I'm very sure that this in NOT a recipe fault in any way. Besides which, it's so good that I'm pretty sure that I'll be making it again because it tastes so darn good, pudding or not. If you like mocha give this a try...and if you do . I'll bet that you get pudding.
For the batter

1

cup flour

2

teaspoons baking powder
1⁄4 teaspoon salt
2⁄3 cup sugar
1⁄4 cup unsweetened cocoa powder
1⁄2 cup walnuts, coarsely chopped
1⁄2 cup milk (whole or low-fat)
1⁄4 cup unsalted butter

2

ounces semisweet chocolate, coarsely chopped

2

teaspoons vanilla extract

1

large egg, lightly beaten

For the topping

1⁄3 cup sugar
1⁄3 cup firmly packed light brown sugar
1⁄2 cup unsweetened cocoa powder
1 1⁄2 cups brewed coffee (for a less-pronounced coffee flavor, may substitute 1 1/2 cups water plus 1 teaspoon espresso powder)
Preheat oven to 325 degrees. Lightly grease a 9-inch cake pan and set aside.
For the batter: In a large bowl, sift together the flour, baking powder, salt, sugar and cocoa powder. Add the walnuts. Set aside.
In a medium saucepan over medium heat, combine the milk, butter and chopped chocolate, stirring until the butter and chocolate have just melted.
Remove from the heat, then add the chocolate mixture to the dry ingredients, add the vanilla extract and egg and mix thoroughly to combine. Pour the batter into the prepared cake pan.
For the topping: In a small saucepan over high heat, combine the sugar, brown sugar, cocoa powder and coffee, and bring it to a boil while whisking constantly until the mixture is smooth.
Pour the liquid over the cake batter.
Bake for about 30 minutes, or until the cake is set in the middle; the pudding may be visible around the edges.
Spoon the pudding cake into individual bowls and serve warm.