Chocolate Mint Truffle Cookies
Katzen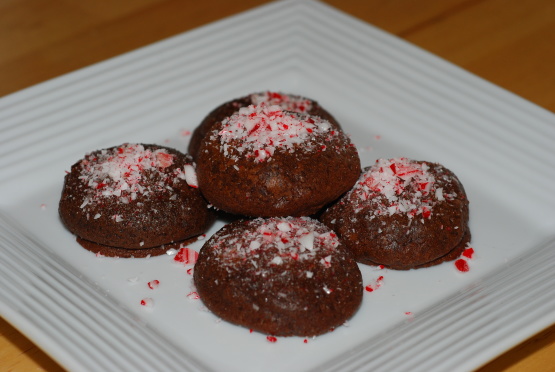 These cookies are our very favorite Christmas cookies. My husband has been making these with our kids since the oldest was just 1 1/2 years. They are amazing - chocolaty, fudgy and moist. A true winning combination. The dough needs to be refrigerated for 2 hours which is not included in the prep time. Cookies can be frozen for about a month and will last in airtight container for about a week (although we never actually have been able to test this time because the cookes are gone in no time). From Canadian Living Magazine

Top Review by Katzen
Wonderful and decadent! Very simple to make, as well. For fear of burning the chocolate (and also because I don't get to use it much), I pulled out my double boiler and used it to melt the butter and chocolate; it did it's usual fantastic job. I was pressed for time, so I put the dough in the freezer for 30 minutes, which did the trick! I used my cookie scoop (or should I say DH did), which I think was tbsp size, and then rolled the scoops into perfect balls. Which he then dubbed "reindeer poops" (nevermind, he's gearing up for spending the rest of the day with the nephews who are in their late teens, and it'll be reindeer poop and the like for the rest of the day for me!) I used parchment paper on the cookie sheets, and followed the recipe from there. They're so lovely, Deantini, and such a treat - no matter what you call them! Thanks for posting! :o) Made for PRMR Tag.
In a heavy saucepan melt unsweetened, semi-sweetened chocolate and butter over medium low heat. Remove from heat.
Vigorously whisk in sugar; hereafter whisk in eggs 1 at a time, lastly whisk in the mint extract.
In a seperate bowl mix flour with baking powder; and add to the chocolate mixture. Stir in chocolate chips.
Transfer to bowl, cover with plastic wrap and refreigerate for 2 hours (up to 24 hours).
Preheat oven to 350 F.
Prepare baking sheet with parchment paper or spray with cooking spray.
Roll dough into 1 inch balls, place 2 inches apart on baking sheets.
Bake for about 8 minutes.
Remove from oven and sprinkle each cookie with a bit of the chopped candy cane. Let cool on baking sheet for 5 min before transfering to cooling rack.