Chocolate Mint Dream Cookies
GaylaJ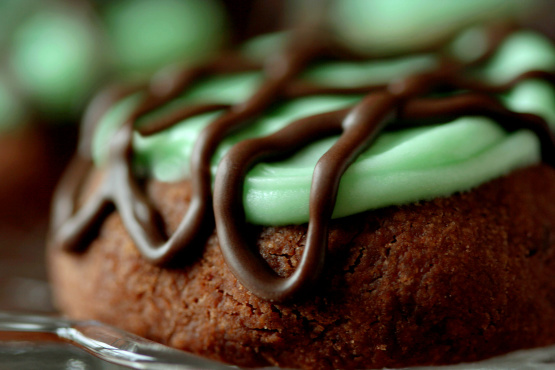 These are such a smooth cookie; minty, chocolate, and a pretty frosting. They are from a TOH and are a must have on a cookie tray!

Rachie P,,,Made these recently,and enjoyed,very tasty.I did have to add a bit more butter to make dough a bit softer,perhaps ,as I have been told the Canadian flour milled a bit different than the American flour. Needed to watch closely the baking time so as not to brown bottoms too much...Will prepare and make again,glad you posted...Don
3⁄4 cup butter, softened (no substitutes)
1⁄2 cup confectioners' sugar

2

ounces unsweetened chocolate squares, melted and cooled
1⁄4 teaspoon peppermint extract
1 1⁄2 cups flour

1

cup miniature semisweet chocolate chips

Icing

2

tablespoons butter, softened

1

cup confectioners' sugar

1

tablespoon milk
1⁄4 teaspoon peppermint extract

1 -2

drop green food coloring

Drizzle

1⁄2 cup semi-sweet chocolate chips
1⁄2 teaspoon shortening
In a large mixing bowl, cream butter and sugar.
Beat in chocolate and mint extract; gradually add flour.
Stir in chocolate chips. Dough will be soft.
Drop by Tbsp 2 inches apart on ungreased baking sheets.
Bake at 375 for 6-8 minutes. Cool 4 minutes before moving to racks to cool completely.
Combine icing ingredients and spread over cooled cookies; let set.
In a microwave, melt drizzle ingredients, stir until smooth. Drizzle over cookies.