Nixxy.R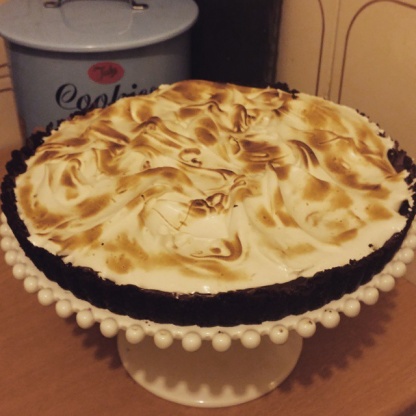 A delight for chocolate lovers! A quick and easy dessert sure to impress at any occasion.
BASE:.
Lightly grease a 9-inch fluted tart tin with a removable base.
Process the cookies until finely chopped. Add the butter and process until combine.
Press the mixture into the base and up the sides. Chill for 15 minutes.
FILLING:.
Melt the chocolate and cream in a double boiler, stirring until melted and smooth. Set aside to cool for 15 minutes.
Spread the base with a thin layer of chocolate hazelnut spread. Poor the chocolate ganache over the top,. Chill for 2 hours or until firm.
ITALIAN MERINGUE:.
Combine 2/3 cup of sugar, 1/4 of water and a dash of salt into a small saucepan. Over a medium to high heat bring to the boil. Stirring until sugar is dissolved.
Cook with out stirring until a candy reaches 240 degrees (about 5 minutes).
Combine cream of tartar and 3 egg whites into a large metal bowl.
Beat with a mixer on high speed until medium peaks form.
Gradually add sugar syrup to the egg whites. Beat until firm peaks. Add vanilla.
Spoon meringue over the chocolate tart. Make the top uneven for a rustic look.
Use a blow torch or a really hot grill to brown the top.