ImPat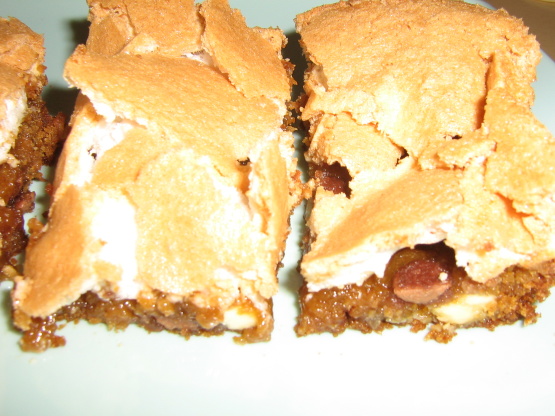 I love layered bar cookies and this one appealed to me because the use beaten egg whites instead of the more common condensed milk looked quite interesting. The resulting cookie is a soft thin blondie-like bar with with a gooey layer of chocolate topped with a crispy shell.

I found this recipe which sounded like the same one my mother used for years. Its a good recipe but they seemed underbaked and I didn't want to try baking them longer after pulling them out at 32 min and leaving them sit. The recipe should have said 45 min. so people don't waste time and ingredients for under baked dessert.
Pre-heat oven to 325 degrees.
Beat butter, sugars, egg yolks, and 1 teaspoon vanilla until soft and creamy. Mix dry ingredients together and add into the butter-sugar bowl along with the milk. Spread evenly into 9"x13" pan. Sprinkle with a laer chocolate chips.
Beat egg whites to soft peaks, beat in brown or white sugar and vanilla. (Brown sugar yields a slightly more tawny flavor.) Fold in nuts (if using) and spread over the chocolate chips.
Bake 30-35 minutes.
Remove from the oven and allow to cool completely before cutting and serving.