chocolate matzoh clusters
karen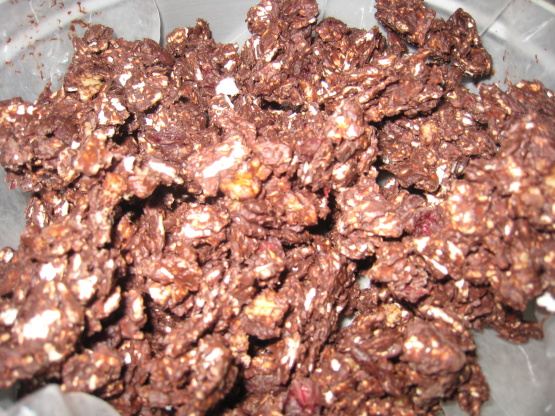 big hit at my sisters this holiday, we made it at home the next day using other chips, and all were delicious

Oh my!! - someone take these away from me before I eat them all. These are sooo good and very addictive. Easy to make (about 5 crumbled matzoh crackers made 4 cups) and watch out - these will be gone in a flash. I used chocolate, walnuts, and raisins in this batch and unsalted matzohs. Delicious!
4

cups matzo farfel or 4 cups matzohs, crumbled

3

cups chocolate chips, melted (we used white chocolate, butterscotch, and semi sweet chips and made 3 batches out of this recipe)

2

cups walnuts or 2 cups almonds or 2 cups mixed nuts
dried mixed fruit, diced (optional)
coconut (optional)
melt chocolate chips in the microwave for 1 minute, stir.
in greased mixing bowl add nuts, matzoh and chocolate, stir to mix well (if you want to add dried fruit and coconut do it now).
place wax paper onto baking sheets.
drop by spoonfuls, refrigerate several hours.