Chocolate Marshmallow Gifts
dizzydi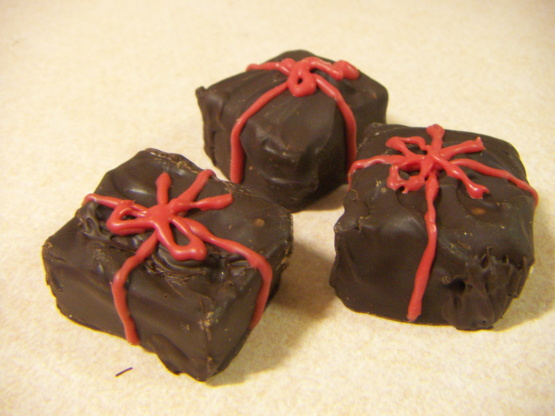 A lovely way to present marshmallow! These little choc coated marshmallow not only look good but taste great! I used strawberry marshmallow and coated in dark chocolate but the possibilities are endless! you could use any marshmallow or chocolate for coating. They look great on a chocolate platter or are perfect to give as a gift for someone special. I hope you like them. I use my own handmade marshmallow to make these squares but you could use store bought if you wish.

Moorish! This was so good not just as gifts for Christmas time but for cute presentation for special guest with a cup of hot chocolate. My bows didn't look as sweet as your bows, however my daughter liked them. I used your Recipe #310749 (which I may add it's now my third batch and I have given the recipe to five people). Thanks for posting another great recipe dizzydi
Melt Chocolate in microwave in 30 second intervals.
Dip marshallow squares in chocolate and allow excess to drain off, refrigerate till set.
Pipe melted chocolate bows over chocolate squares.
Refrigerate till set.