Chocolate Lovers Bundt Cake
Dwynnie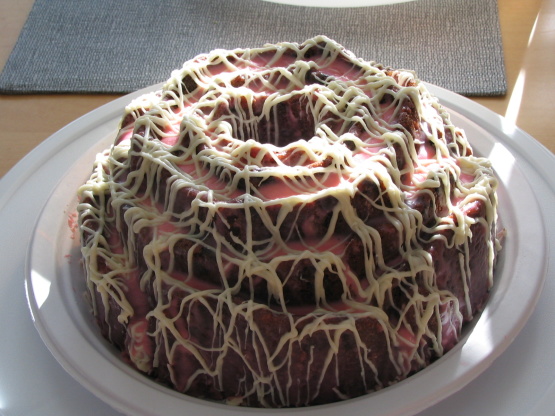 This recipe is from Tast of Home, I've made a lot of chocolate bundts from a cake mix but I wanted one that was from scratch. It almost like a chocolate pound cake.

This is a great recipe!
Made a couple of tiny changes to xmas it up a bit...
changed the almond extract to peppermint extract, glazed with a mint chocolate glaze and sprinkled crushed candy canes on the glaze before it set to make this a xmas recipe- Yummy! and pretty
In large bowl, cream butter and sugar until light and fluffy.
Add eggs, one at a time, beating well after each one.
Stir in extracts.
Combine the flour, cocoa and baking soda in a small bowl, add to creamed mixture alternately with sour cream.
Beat just until combined, do not over mix.
Stir in chocolate chips.
Pour into a well greased and floured 10 inch tube pan.
Bake at 325 for 75-90 minutes or until cake tester inserted near the center comes out clean.
Cool for ten minutes before removing from pan to a wire rack to cool completely.
Run a metal spatula or butter knife around sides of pan to loosen cake first.
Combine the chocolate chips, cream and butter in a saucepan.
Cook; stir constantly over low heat until smooth.
Cool slightly.
Gradually whisk in confectioners sugar.
Stir in extract.
Drizzle over cake and sprinkle with almonds.