Chocolate Liqueur (Creme De Cacao)
Jostlori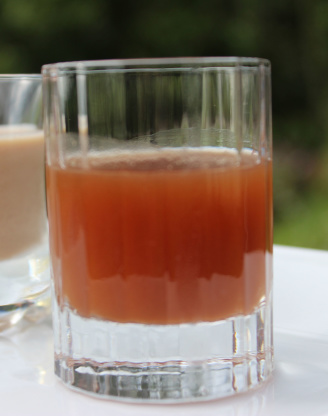 I found this on about.com while hunting for recipes that use chocolate extract. It looks very simple - basically just vodka, chocolate and vanilla extracts, and simple syrup.

Am giving no stars because I encountered a problem with a key ingredient (which was found to be moldy!). I will make this recipe again once I'm able to replace the chocolate extract, which is not easily found in Costa Rica. BUT, I did make this anyways by melting a round of Mexican chocolate in the hot syrup, then straining 3 times through fine cheesecloth. It is murky, but the cinnamon chocolate comes through loud and clear. Can't wait to try it with the chocolate extract sometime soon and upgrade the star rating. Thanks for posting! Made for My3Chefs 2013
Combine sugar and water in medium heavy saucepan over medium high heat. Bring to a boil, stirring constantly. Lower heat and simmer 5 minutes. Remove from heat and cool thoroughly. Stir in chocolate extract, vanilla and vodka.
Pour into a clean glass bottle with tight fitting lid and store in a cool, dry place.