SharonChen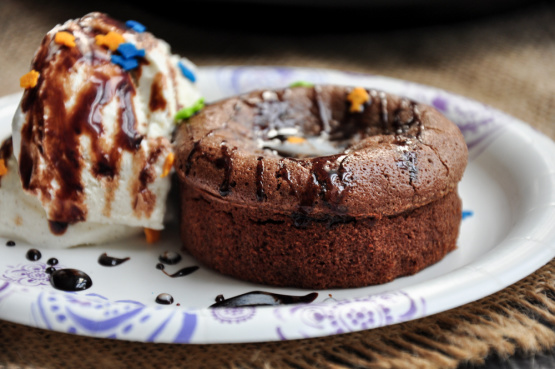 This chocolate cake is all the rage at trendy restaurants. Just crack it open to find a lovely gooey center.

Unbelievably Good and Easy are not often in the same sentence. I used a 12 cupcake teflon pan, no liners, just buttered and sugar swirled in each cup --- Tip: put a teaspoon or so of sugar in each cup if you are using a multi cup pan like me, then swirl the sugar around-allowing all of the cups to be "sugared" at one time.

I changed the following: 50/50 mixture of semisweet chips and dark(86%) chocolate for total 8 oz chocolate, plus a trick from the Barefoot Contessa: a sprinkle (1/2 teaspooon) of instant coffee granules in the hot melted butter/chocolate mixture. Mixed in before combining with the flour/sugar/eggs. Intensifies the chocolate flavor, and does not leave a coffee flavor in the cakes.

The lava cakes rose up about 1/2 inch above the pan, just like a souffle....let them cool before inverting the pan over a large plate -- all 12 came out with the "lava dome" on the top, with only one "eruption" er I mean spill of Lava.
So good, so easy, a keeper for sure.
Preheat oven to 400°F.
Butter the bottom and sides of 15 4oz ramekins.
Sprinkle with sugar, tapping to remove extra sugar.
In double boiler, melt the chocolate and butter.
Whisk until thoroughly melted.
In a large bowl whisk together the eggs, sugar and flour until just blended Gradually whisk the chocolate into the egg mixture until combined.
Evenly divide the mixture between the prepared ramekins, using about 1/3 cup for each Place the ramekins on a baking sheet for 10-12 minutes until the tops are firm and beginning to crack and the edges are set Remove from oven and serve immediately with ice cream.