lazyme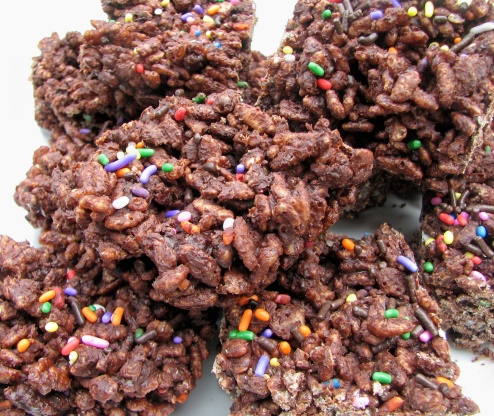 This aired on Food Network on Semi-Homemade with Sandra Lee. Recipe courtesy Sandra Lee. Putting here for safe keeping.

I was disappointed. Like bmcnichol, I also had to take a second look at the recipe to see what I missed. The cocoa powder was quickly absorbed and didn't seem to do what I thought it would. Yes, this is simply chocolate covered rice krispies. I don't think I'll make it again.
Melt butter, peanut butter and chocolate chips together in microwave, stirring every 30 seconds.
Stir in rice or corn cereal to coat.
Put cocoa powder in paper bag or re-sealable plastic container.
Add cereal and shake until cereal is covered with cocoa powder.
Add Sprinkles and shake again.
Serve.