luvcookn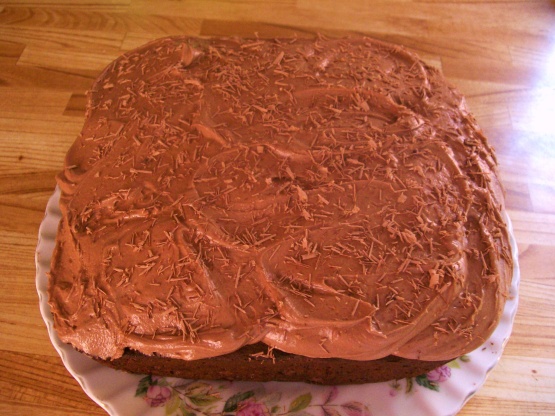 Dark and decadent. A great dessert.

Oh mama! This is a great cake. The icing was just fantastic. Please do try it WITH the icing. It makes a world of a difference. I did end up adding 4 tablespoon of kahlua in the icing instead of three. One thing though...I felt that I couldn't really taste the kahlua in the cake (sponge) part. Maybe I might add more kahlua the next time. AA here I come :). Thanks Sue!
Grease and flour two 9-inch cake pans.
Preheat oven to 350 degrees F.
Beat egg whites until frothy; then add sugar and beat until stiff peaks form; set aside.
Cream butter and brown sugar until fluffy; add egg yolks one at a time, beating after each addition.
Sift flour, cocoa, and baking soda together in a separate bowl; add to creamed mixture alternatively with coffee and Kahlua, blending well.
Fold egg whites into batter.
Pour batter into prepared pans.
Bake in a preheated oven for 30-35 minutes or until done; cool 10 minutes; invert on wire rack; remove pans.
Cool completely before frosting.
To prepare frosting, cream butter and confectioners sugar in a large bowl.
Add cocoa, Kahlua, and coffee, beating until smooth.
Spread frosting on cake; garnish cake with shaved chocolate, if desired.