Chocolate Hazelnut Parfaits
Annacia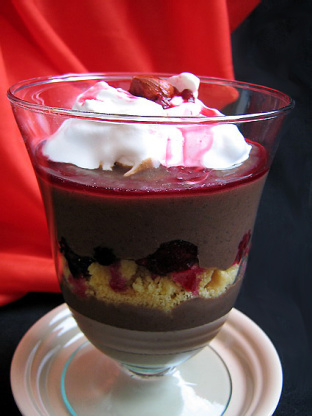 This is a fast-to-fix dessert I got from Taste of Home. The time to make is 10 minutes plus 1 hour for chilling.

OMG, this is fabulous! My only suggestion for change would be to completely mix the pudding with the milk and to add the creamer after it's well blended. I mixed the milk and creamer together and added them and I had tiny pudding bits that just would beat out. I use this pudding a lot and have never had this happen before. That said, the wee spots sure didn't hurt the taste any! The strawberries that the local market had (it's now January) were far more yellow-greem than red and 3 times the price of good summer ones. I used some mixed berries that I had in the freezer with wonderful result. As they defrosted they released juice that I used in the berry layer and over the topping. Lainey, this WILL be made again (I want to try it with white chocolate pudding too). Thanks hon for posting this lovely indulgence. I should mention that I used fat/sugar free pudding and skim milk and one cookie. This is a real keeper.
In large bowl, whisk the milk, creamer and pudding mixes for 2 minutes. Let stand for 2 minutes or until soft-set.
Spoon 1/4 cup pudding into each of eight parfait glasses; sprinkle each with 1 T cookie crumbs.
Top with strawberries and remaining pudding and crumbs.
Refrigerate for 1 hour before serving.
Garnish with whipped cream, if desired.