GaylaJ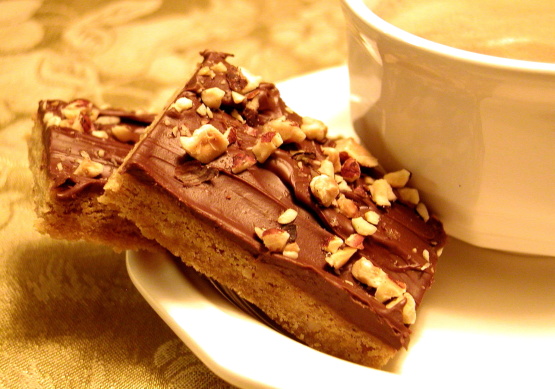 An attractive and tasty bar cookie adapted from Family Circle magazine. Using the Nutella as frosting makes this simple and quick to put together. Note added 9/16/05: Even though the recipe calls simply for an egg yolk, I would suggest using the whole egg as I believe they will hold together better. Thanks to Caroline Cooks for testing this change. :)

Made this as written (adding the whole egg, not just the yolk,) and while delicious, I found the Nutella layer to be way too thin. The bar/cookie layer dominated so I added another layer of Nutella, so double the Nutella in the recipe for the best cookie/Nutella ratio. The results were fantastic! I took them to a dinner party and they were raved about and gobbled up. Thank you!
Heat oven to 350°F and generously coat a 13x9-inch baking pan with nonstick cooking spray (I lined with non-stick aluminum foil, allowing excess over sides of pan so I can lift them out to cut).
Beat together butter, sugar, egg yolk and vanilla in medium-size bowl until well blended.
Mix in flour, salt and 1/3 cup finely chopped hazelnuts.
Press evenly in prepared pan.
Bake for 20 minutes or until top is golden brown.
Remove pan to wire rack and cool 10 minutes.
Spread top evenly with chocolate-hazelnut spread, then sprinkle with remaining hazelnuts.
Chill to set top, then cut into 24 bars.