Chocolate Haupia (Coconut) Pie
Elaine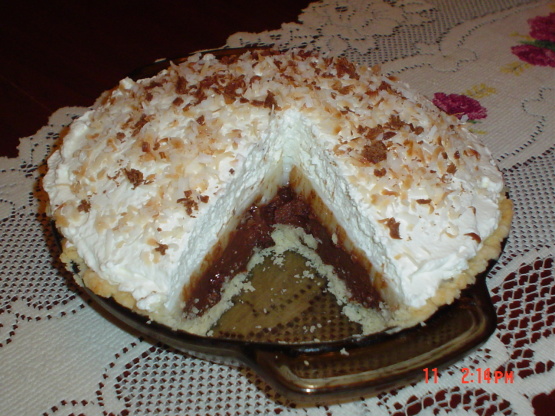 I looked everywhere for this recipe and finally found it. My family loves it and it is so easy to make!

My roommate is from Honolulu and is missing home (understandable, since we're in the frigid Midwest!). She wanted haupia pie for her birthday, so I figured I'd give it a try.

IMPORTANT: The best ways to ensure success:
1. If you're making homemade pie crust and you're going to blind bake it, let your crust hang over the edges, trimming with a kitchen shears instead of a knife works really well. Also, letting the crust sit in the freezer for an hour or two can help minimize shrink, and use pie weights if you have them!

2. FOR THE HAUPIA: Make a slurry of the cornstarch and 3/4 cup of your COLD liquid from the filling (coconut milk and milk) in a pyrex glass measuring cup. Mix it until there are NO lumps, then pour that in with a thin stream. I made the mistake of putting the corn starch in directly like the recipe said, and it was an utter disaster. No no no no.

I garnished with toasted coconut and shaved chocolate. It looked very pretty, not the flavor/texture for me, but my roommate thought it as great.
Preheat oven to 350 degrees F (175 degrees C).
Bake crust for 15 minutes, or until golden brown.
Set aside to cool.
In a medium saucepan, whisk together milk, coconut milk and 1 cup sugar.
In a separate bowl, dissolve the cornstarch in water.
Bring coconut mixture to a boil.
Reduce to simmer and slowly whisk in the cornstarch.
Continue stirring mixture over low heat until thickened.
In a small sauce pan, melt chocolate chips for 1 minute or until melted.
Reserve 1/2 of the coconut mixture.
Mix remaining half with the melted chocolate and pour in bottom of pie crust; pour reserved half on top of chocolate layer.
Cover and refrigerate for about an hour.
Whip cream with 1/4 cup sugar until stiff peaks form.
Layer the cream on pie; if desired garnish with chocolate shavings.
*Bestif it refrigerates over night to completely firm.