Chocolate Haupia (Coconut) Pie
Elaine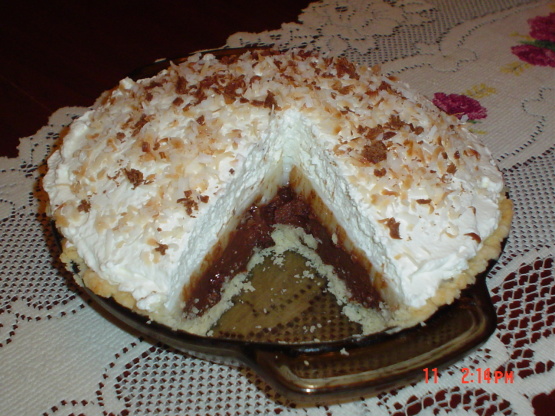 I looked everywhere for this recipe and finally found it. My family loves it and it is so easy to make!

Use a deep dish or two regular 9 inch pie crusts this makes a substantial amount.
Preheat oven to 350 degrees F (175 degrees C).
Bake crust for 15 minutes, or until golden brown.
Set aside to cool.
In a medium saucepan, whisk together milk, coconut milk and 1 cup sugar.
In a separate bowl, dissolve the cornstarch in water.
Bring coconut mixture to a boil.
Reduce to simmer and slowly whisk in the cornstarch.
Continue stirring mixture over low heat until thickened.
In a small sauce pan, melt chocolate chips for 1 minute or until melted.
Reserve 1/2 of the coconut mixture.
Mix remaining half with the melted chocolate and pour in bottom of pie crust; pour reserved half on top of chocolate layer.
Cover and refrigerate for about an hour.
Whip cream with 1/4 cup sugar until stiff peaks form.
Layer the cream on pie; if desired garnish with chocolate shavings.
*Bestif it refrigerates over night to completely firm.