SharonChen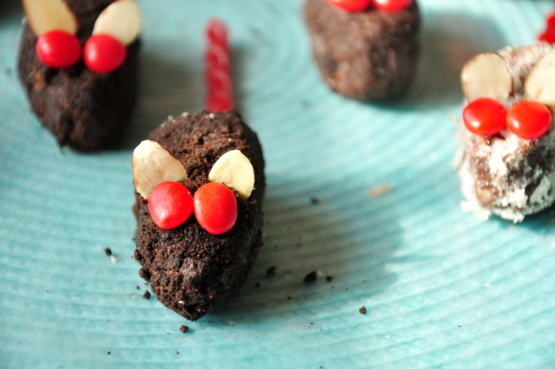 Kids will love these and they are both fun and whimsical to make.

These are very cute! I doubled the recipe to make enough to take to a Halloween party. Also, as it was an adult party, I added a bit of Kahlua to the sour cream before mixing it with the chocolate, just for a bit of zing! I also rolled them in chocolate sprinkles which gave them the look of mangy fur, before rolling them in the crumbs, and used red sprinkles for the eyes for a demonic look! They were a huge hit, and quite tasty!
4

(1 ounce) semi-sweet chocolate baking squares
1⁄3 cup sour cream

1

cup chocolate wafer, finely crushed
1⁄3 cup additional chocolate wafer, finely crumbled (for dark mice)
1⁄3 cup confectioners' sugar (for white mice)

24

silver dragees (small silver, edible balls for eyes)

24

sliced almonds (for ears)

12

licorice, strings (for tails)
Melt the chocolate, and combine with sour cream. Stir in 1 cup of the chocolate wafer crumbs. Mix well. Cover and refrigerate until firm.
Roll by level tablespoonfuls into balls. Mold to a slight point at one end (the nose).
Roll dough in confectioners sugar (for white mice), or in chocolate wafer crumbs (for dark mice).
On each mouse, place dragees in appropriate spot for eyes, almond slices for ears, and a licorice string for the tail.
Refrigerate for at least two hours until firm.