3 Reviews
I made these for my dad for St. Patrick's Day since he loves chocolate cake as well as Guinness beer. He loved them! They are a rich and moist. The directions on the recipe are for cake not cupcakes. I baked mine for 18 minutes. The recipe makes 24 not 12. Obviously the person who posted the recipe hasn't tried it yet. We thought they tasted much better the next day when the beer flavor wasn't as strong and the chocolate was more predominate. I iced them with my favorite butter cream frosting, Butter Cream Icing (Buttercream Frosting).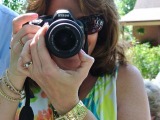 These were fabulous cupcakes!! I tried them on a recommendation from my friend, Marg. They do make 24 cupcakes, not 12. I topped them with buttercream frosting and they were a huge hit. I will be making these a lot more often. The dark chocolate taste was fantastic! I had never baked with beer before. :)
These were great. Made 27 cupcakes for me. I made a Swiss meringue butter cream to frost them. I had to bake them for 20m. I would definitely make these again.
Chocolate Guinness Cupcakes