Chocolate Griddle Cakes With Chocolate Sauce
Maito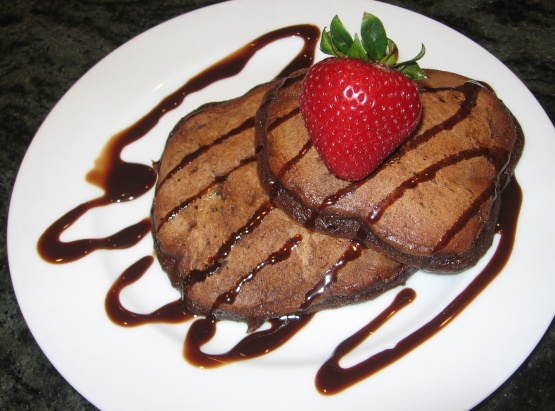 Very chocolate pancakes with a very chocolate sauce that you may also use for finger painting your Valentine (or save it just for the finger painting and top the cakes with whipped cream and berries).

ABSOLUTELY GREAT CAKES! Of course, that comes from a dedicated chocoholic, but still . . . I did leave out the Amaretto when making the sauce, but that didn't distract from a wonderful, tasty chocolate fix! Will certainly be making these again & again! [Tagged, made & reviewed on Went to the Market cooking game]
Make sauce:.
Bring cream to a boil in a 1-quart saucepan, then pour hot cream over chocolate and sugar in a bowl, gently whisking until smooth.
Mix in Amaretto.
Keep warm or at room temperature.
Make griddle cakes:.
Sift together cocoa, cinnamon, flour, sugar, baking soda, and salt into a large bowl.
Whisk in eggs, yolk, buttermilk, oil, and vanilla until combined well.
Heat a griddle or nonstick skillet over moderately low heat and lightly coat with butter.
Working in batches of 2 or 3, pour 1/3 cup batter per cake onto hot griddle and cook until bubbles appear on surface, 1 to 2 minutes.
Flip cakes with a large spatula and cook until tops spring back when pressed gently, about 1 minute more.
Transfer to a plate and loosely cover with foil to keep warm.
Add 1/2 teaspoon butter to griddle between batches.
Serve cakes in stacks, topped with chocolate sauce.