Chocolate Grand Marnier Covered Strawberries
Rita1652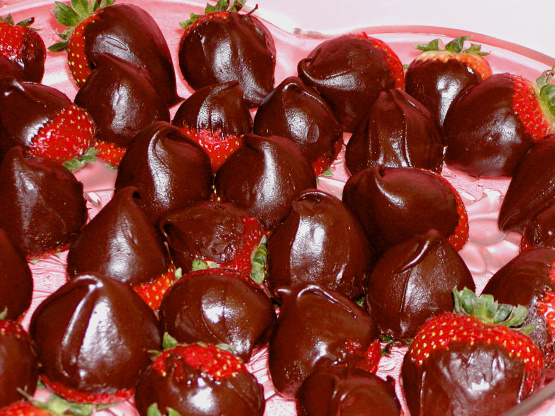 This is a romantic, seductive, rich, lush and thick, soft, chocolate covered berries! NOT a bite and crunch covered berries! Great for feeding your LOVED ONES. I've also cut a slice into the strawberry and put it onto a rim of my Grand Champagne. You can decorate the top of a decadent chocolate cake with them.

How many times can a person say "Oh wow" while eating these? Infinite! I splurged on some really gorgeous strawberries and made two batches, one with semisweet chocolate and cherry liquour, and one with white chocolate and the Grand Marnier. My only complaint is that it takes about 60 seconds to polish off the bowl, but it's so easy to make more!
In a microwave glass bowl melt butter and chocolate 1-2 minutes.
Add cream and Grand Marnier stirring to blend.
Dip strawberries into chocolate and place on wax paper till hardened.