An_Net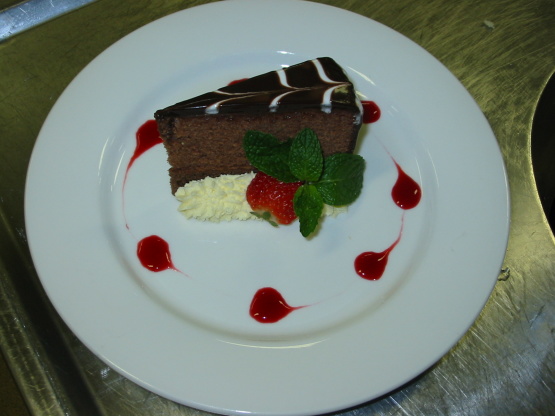 Heavenly! This recipe was given to me by my sister, one of the owners of the Carpe Diem restaurant in Charlotte, N.C., famous for it's ganache(she makes the desserts). Taste it and you will see why!

This is a very rich, wonderfully smooth dessert. A must for any chocolate lover's cookbook. As I had a little trouble with the recipe at first (strictly due to my ignorance) I have a few notes: Be sure you get the correct chocolate. (Unsweetened is not the same as bittersweet.) I found the bittersweet at WalMart in the baking section, made by Ghirardelli. It comes in a thin bar (4 oz). Step 4 says: Heat cream to a boil. You just want it to begin bubbling around the edges. [b]Don't bring it to a full boil.[/b] If your cream is to hot, the chocolate will separate and become grainy. I would even suggest if you are using an electric stove, that you have a second burner heated to a low heat, so when the cream starts to bubble, you can move it to a lower heat, add the chocolate and egg yolk, and continue with the recipe without having to wait for your burner to cool, or taking a chance on scorching the chocolate. This is a rather costly dish overall with the cost of the chocolate and pecans, but well worth the expense. [b]A firm five stars![/b]
Mix together the pecans, melted butter, and sugar.
Press into 9" tart pan with removable bottom.
Bake at 325* for 12 minutes until light brown, cool.
Heat cream to boil.
Add chocolate and yolk and mix until smooth.
Pour into cool shell and refrigerate until set.
Enjoy!