Chocolate Fudge Pecan Pie
Prep 15 mins
Cook 35 mins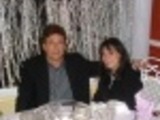 A quick, easy recipe to satisfy your chocolate fix! Prep time does not include chilling time.
Make and share this Chocolate Fudge Pecan Pie recipe from Food.com.
Directions
Preheat oven to 350 degrees. Meanwhile, combine cornstarch and water in a small bowl.
In saucepan, melt chocolate and condensed milk over low heat, stirring occasionally. Add the cornstarch mixture, then the eggs, butter, and salt. Stir until well-combined and smooth.
Remove from the heat and add pecans. Mix well and pour into crust.
Bake for approximately 30-35 minutes, until a knife inserted into the center of the pie comes out clean. Cool on a rack, then cover and refrigerate for a minimum of 2 hours.
Reviews
Most Helpful
Very rich and chocolatey! And so easy! I made this for our 4th of July celebration. I think that next time I'll use a graham cracker crust instead of the chocolate crust. Thanks for posting Jackie!