Chocolate Fudge Pecan Pie
Prep 15 mins
Cook 35 mins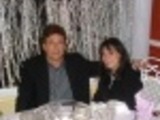 A quick, easy recipe to satisfy your chocolate fix! Prep time does not include chilling time.
1 (9 inch) chocolate crumb crusts
1 tablespoon cornstarch
1⁄2 cup water
3 (1 ounce) unsweetened chocolate squares
1 (14 ounce) can condensed milk
2 eggs
1⁄4 cup butter, softened
1 dash salt
1 cup pecans
Directions
Preheat oven to 350 degrees. Meanwhile, combine cornstarch and water in a small bowl.
In saucepan, melt chocolate and condensed milk over low heat, stirring occasionally. Add the cornstarch mixture, then the eggs, butter, and salt. Stir until well-combined and smooth.
Remove from the heat and add pecans. Mix well and pour into crust.
Bake for approximately 30-35 minutes, until a knife inserted into the center of the pie comes out clean. Cool on a rack, then cover and refrigerate for a minimum of 2 hours.
Reviews
Most Helpful
Very rich and chocolatey! And so easy! I made this for our 4th of July celebration. I think that next time I'll use a graham cracker crust instead of the chocolate crust. Thanks for posting Jackie!