Chocolate Fudge-Nut Cream Cheese Bars
Pixie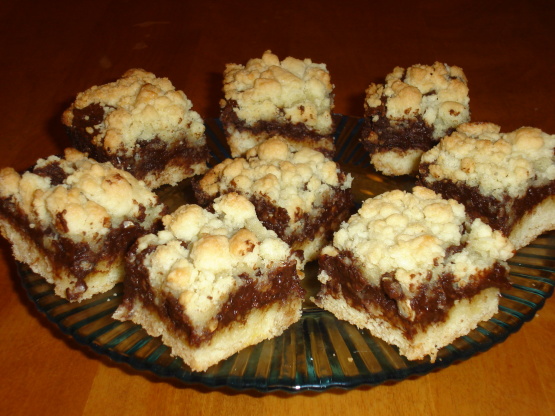 Creamy cream cheese layers with a delicious chocolate center, these bars freeze wonderful.

Top Review by Pixie
Delicious and easy too! The mixture for the crust and crumb topping was one of the nicest I've ever used (I'm going to steal this for use in other squares!). I had to make a few subs in the filling to match what I had available, cashews instead of walnuts and coffee cream instead of evaporated milk but otherwise kept the measurements the same. I cheated and used the microwave on the filling -- 2 minutes on high and then a really good stirring, worked great. The filling turned out really creamy and richly chocolate. Thanks for posting this, Kittencal.
Set oven to 375°.
Butter a 13 x 9-inch pan.
In a saucepan, combine chocolate pieces, cream cheese and evaporated milk; stir over low heat until smooth, then set aside.
Stir in chopped nuts In a large bowl, cream sugar and butter or margarine (if using), until light and fluffy, then blend in eggs and vanilla.
Mix together flour baking powder and salt, then add to the creamed mixture; mix well to combine.
Press half of the mixture into the bottom the prepared baking pan, then spread the chocolate mixture over crust.
Sprinkle with remaining crust mixture, then press down gently.
Bake for 30 minutes, or until crust is lightly browned.
Cool then cut into bars.