Chocolate Fudge Cookies With Toffee & Dried Cherries
ChefLee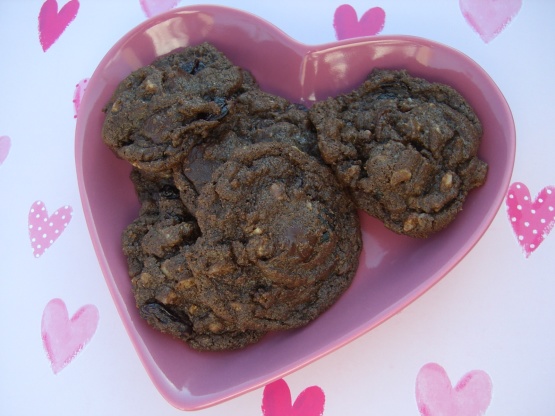 These cookies have a crispy exterior and a soft and chewy interior. The various flavours and textures (rich dark chocolate, chewy sour cherries, and sweet crisp toffee) combine to produce a deliciously addictive cookie. From Regan Daley's cookbook, "In The Sweet Kitchen: The Definitive Baker's Companion". If you are using cherries, make sure they are plump and soft. If you want smaller cookies, decrease baking time. Dough freezes very well. These are fabulously gooey when warm.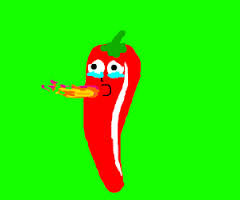 Wonderful, gooey, fudgy cookies!!! I love these flavors together!!! I cut this recipe in half and baked some small size cookies and some large size cookies. Both worked out, I baked the little ones for 9 minutes and the big ones for 15 minutes. This is definitely best as a recipe for the large size cookies because the toffee chips have a chance to get good and melty at this low temperature. The big cookies were like a bakery-type cookie, very good quality and chewy!!! Made these as a Valentine's Day treat and they were a big hit, thanks!!!
Preheat oven to 350°F Line two heavy baking sheets, not non-stick with parchment paper and set aside. Sift flour, cocoa, baking soda and salt together in a bowl and set aside.
In a large mixing bowl or the bowl of an electric or stand mixer fitted with the paddle attachment, cream together the butter and both sugars until light in colour and fluffy - about 2 minutes. Add the eggs, one at a time, beating well after each addition and scraping down the sides of the bowl. Beat in the vanilla. Stir in the flour-mixture in 3 additions, blending just until the dry ingredients are moistened. This part is really easier with a wooden spoon since the batter is quite dense. (The dough may be frozen at this point for up to 4 months; wrap securely in plastic wrap, then in a plastic freezer bag; thaw in the refrigerator without removing its wrapping before portioning the cookies and baking.).
Drop the batter by heaping tablespoons onto the prepared baking sheets and place them in the centre of the oven, turning half way through baking.
Bake the cookies for 15-18 minutes or until barely set in the centre and just firm around the edges. Cool cookies on tray for 3-5 minutes, then transfer to wire rack to cool completely before storing. Store in air tight containers, layered between sheets of parchment or waxed paper for up to 5 days.