PaulaG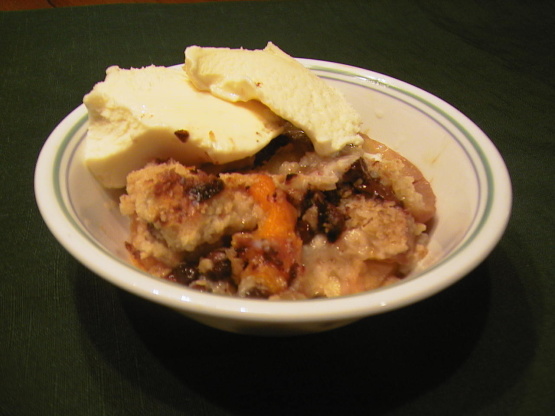 This is a wonderful rich dessert with not one but two fruits--apricot and apple. Serve this warm with vanilla ice cream or yogurt. You can leave the peel on the apples or if your prefer you can peel them. I use old fashioned oats just because I like the texture.

Top Review by katew
I was making apple crumble the other night and at the same time was skyping with my DD in UK and she suggested I do a variation and looked up this recipe for me and dictated it to me as I cooked !!! The wonders of modern technology !! Hence my crumble was all apple but the extra additions especially the chocolate of course certainly added a wow factor - it was just delicious and I served it with fig and ginger ice cream !! I used almonds as my nuts and dark chocolate pus regular course oats. just YUM !!
Spray an ovenproof dish with non-stick cooking spray and set aside.
Preheat oven to 350 degrees.
Drain the canned apricots, reserving 4 tablespoon of the juice.
Pour the apricots in prepared pan and add sliced apples, toss with reserved juice and sprinkle with raisins.
In a medium sized mixing bowl, cut the butter into the flour until fine and crumbly.
Stir in the oats, sugar, chocolate chips and nuts.
Sprinkle the flour mixture over the fruit; do not press into the fruit.
Bake in preheated oven for 40 to 45 minutes, or until topping lightly brown.
Can be served hot or cold.