Chocolate Fondue for Dummies
Ms B.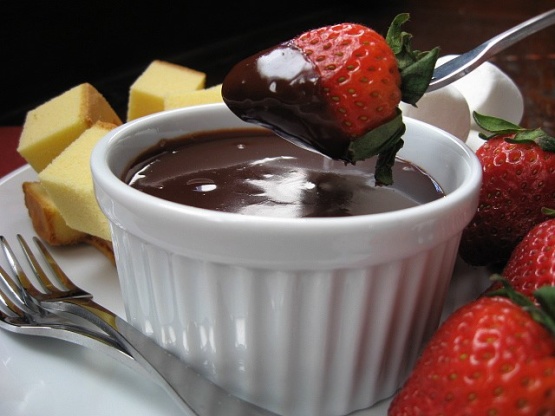 I adopted this recipe and while I have tried more elaborate preparations for fondue, this certainly does taste fabulous with minimal effort.

I used half & half instead of heavy whipping cream - because we had it on hand, and after my sister's 2 failed attempts at melting chocolate, the family finally let me use this recipe that I brought to "girl's week-end". It was fast, easy and really good! It's a keeper!
In a small pot, bring heavy cream to boil Remove from heat.
Add chocolate chips.
Stir, stir, stir, stir Stir it again And again Pour into fondue pot over candle or canned burner.
Dip marshmallows, strawberries or pound cake into chocolate.
This mixture tends to burn after about a 1/2 hour over a fondue with no temp control (candle fondue), so keep an eye on it.