Chocolate-Flecked Multigrain Muffins
mikey ev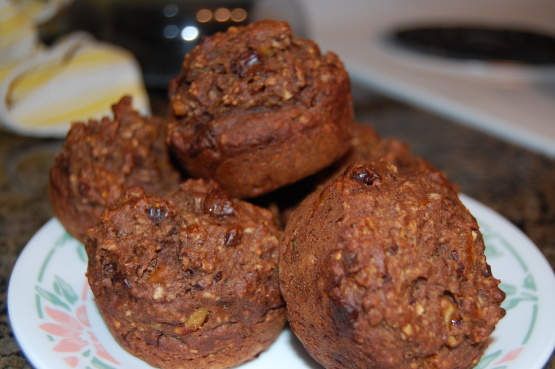 Adapted from Enlightened Chocolate, by Camilla Saulsbury

These are delicious fresh out of the oven! I used canola oil instead of olive and frozen raspberries instead of dates. I sprinkled a little flaxseed in too.
Preheat oven to 375 degrees F.
In a large bowl whisk the flour, sugar, brown sugar, wheat germ, cocoa powder, baking soda, cinnamon and salt until blended. Stir in the oats and dates. Make a well in the center of the mixture.
In small bowl whisk the buttermilk, olive oil, vanilla and egg, then add the liquid to the flour mixture, stirring just until moist. Stir in boiling water. Let batter stand 15 minutes. Stir in the chocolate.
Spray a 12 cup muffin tin with nonstick cooking spray. Spoon batter into prepared muffin cups. Bake 18-20 minutes or until muffins spring back when touched lightly in center. Remove muffins from the tin immediately. Place on a wire rack and cool.