Chocolate Flax Seed Porridge
Geema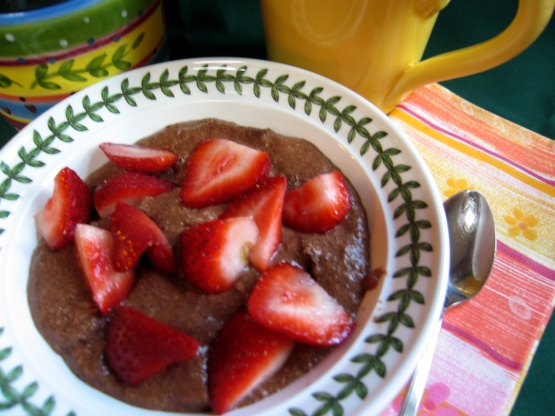 Do you want a cereal that is loaded with nutrition, extremely low in carbs, and positively delicious? This is it! I adapted the recipe from a low carb site, so it's perfect for people who are concerned with good health, on diets or for diabetics.

Top Review by Reyali
I got this all mixed up in the pan to discover that my stove was broken. I managed by putting in steaming hot water instead of cooking it, and it still turned out pretty good. I used sugar instead of stevia and needed a fair bit to get it to be sweet enough for my tastes, but still this is pretty good. (Especially considering my lack -of-stove!)
1⁄2 cup flax seed

2 -3

cups water

1

tablespoon unsweetened cocoa powder (heaping)
1⁄2 teaspoon cinnamon

1

teaspoon vanilla
1⁄4 teaspoon stevia (you can use the sweetener of your choice to taste)

1

pinch salt
1⁄4 cup pecans, chopped (optional)
fruit, of your choice (optional)
Grind the flax seeds, 1/4 cup at a time, in a coffee grinder until very fine.
In a small, preferably non-stick, saucepan, place the ground flax and all other ingredients, except the nuts and fruit.
Simmer on low heat until hot and bubbling, stirring frequently. Add more water until it's the consistency that's most pleasing to you; I like it on the thin side.
Spoon into small bowls; top with nuts and fruit.