Chocolate Filled Snowballs
flower7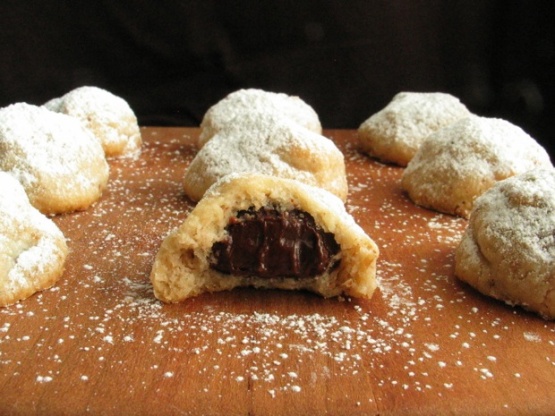 A holiday favorite in our family. Pop them in the microwave for 10 seconds and get a pleasant surprise! Make sure you get one, they go fast!!

These are excellent! I was surprised that the kisses on the inside were still soft, even after the cookies had cooled; I'll be interested to see if they are still soft tomorrow! I unwrapped the kisses while watching TV, before starting on the dough, but checked to see how long it took me (about 20-25 min) so I would know about how long to chill the dough later. I used the dark chocolate kisses but I know someone who has made similar cookies and used some of the other various flavored kisses. After the dough had chilled, I started portioning out the dough into balls, which was good because I only got about 35 first go-round! I went back and made them smaller until I had 60 small balls. Because I had handled the dough so much, I put the balls back into the bowl (gingerly, so they wouldn't stick together) and into the fridge to chill a little. These are a bit piddly, having to wrap each kiss, but definitely worth the work :) Thanks so much for sharing!
226.79

g butter, softened

4.92

ml vanilla

236.59

ml pecans, finely chopped or ground

118.29

ml sugar

473.18

ml flour, sifted

283.49

g packagechocolate Hershey chocolate kisses (about 60 kisses)
powdered sugar, for dusting
Beat butter, sugar, and vanilla until light and fluffy.
Add sifted flour and pecans; blend well.
Chill dough while unwrapping kisses.
Shape dough around each kiss to form a ball; about 1 teaspoon. Make sure the kiss is completely covered.
Place on an ungreased cookie sheet. They dont spread, but make sure there is space between them.
Bake at 375°F four about 12 minutes until set but not brown.
Cool slightly on cookie sheet then transfer to a rack to cool completely. Be careful, they are very delicate when they first come out.
Sprinkle with powdered sugar to complete the "snowball" effect.
Store in an airtight container.