Chocolate-Filled Breakfast Crescents
JOY1998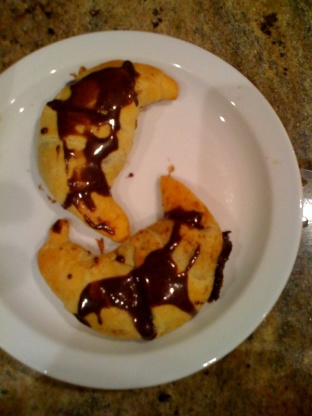 I tripled this recipe! It is so good. I bought some crescent rolls on sale and needed to use them up before they expire. I really liked that the filling wasn't just melted chocolate chips like the other recipes. I found the recipe easy to follow and the result was fantastic. THANK YOU!
Heat oven to 375°F Separate crescent dough into 16 triangles.
Beat butter in small bowl until creamy. Gradually add powdered sugar, beating until well blended. Beat in milk and vanilla. Add cocoa; beat well. Stir in pecans.
Spread slightly heaping teaspoon chocolate mixture on each triangle within 1/2 inch of edges. Roll up; start at shortest side of triangle and roll to opposite point. Press all edges to seal completely. Place point side down on ungreased cookie sheet; curve slightly to form crescents.
Bake 12 to 15 minutes or until golden brown. Remove from cookie sheet to wire rack. Cool to room temperature. Drizzle CHOCOLATE GLAZE over top of crescents.
Chocolate Glaze: Melt butter in small saucepan over low heat; add cocoa and water, stirring constantly, until mixture thickens. Do not boil. Remove from heat; gradually add powdered sugar and vanilla, beating with whisk until smooth. Add additional water, 1/2 teaspoon at a time, until desired consistency.