Chocolate-Filled Angel Food Cake
Marlene.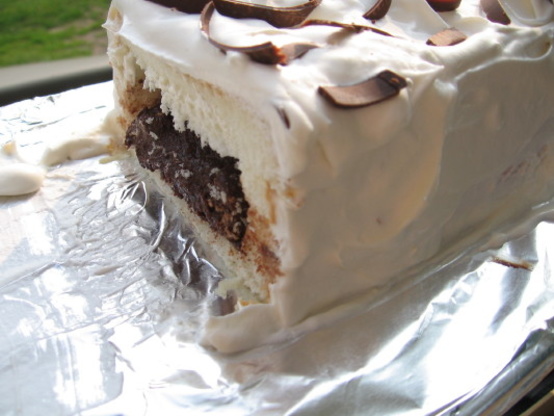 i got this from my sister. its so easy
This is delicious! I was really on the fence about making it , I couldn't for the life of me get past the whole raw egg thing. Thanks to the suggestion of another zaar member, I DID SUBSTITUTE , which I normally don't like to do when trying a recipe for the first time. I used egg beaters for the egg part. Pasturized you know ;) I also used sugar free cool whip in place of doing the whole whipping cream thing ... saved me some time AND calories that way ... Using a store bought angel food cake from the bakery, and the really quick instructions , I had a lovely looking dessert in no time! And it tastes really good too! I added a couple chocolate shavings on top, just for some pizazz and voila~ Thanks for sharing this recipe!! :)
1

angel food cake (from package or scratch you pick)

6

ounces dark chocolate

1

tablespoon sugar

1

egg yolk (beaten)

1

egg white (beaten)
3⁄4 cup whipping cream (whipped)

1

pinch salt
bake and cool angel food cake cut off 1" slice off top hollow out middle of cake keep pieces melt chocolate add sugar and salt stir in egg yolk.
cool add egg whites to chocolate combine chocolate mixture with cake pieces.
fill cake put top back on let set serve with whip cream.