GaylaJ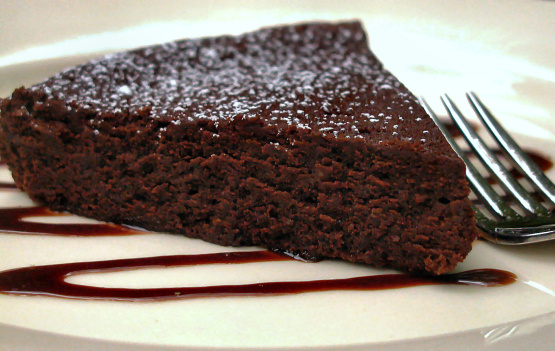 Rich, intensely-flavored dessert from Fine Cooking. I made this especially for my husband, whose #1 drink of choice is espresso. You'll definitely want to use top-quality chocolate and, of course, good, fresh coffee beans. I used 8 ounces of bittersweet chocolate, rather than the semisweet/unsweetened combination, and refrigerated overnight before serving. The original recipe listed double-strength coffee as an alternative to the brewed espresso, but I would only use this if you have no means to brew espresso, or, at least, access to purchased shots.

Hey everybody made this cake for my culinary school and it was a great hit. Had to make 4 more--it was a sell out!!!! Thanks and have a great day, la chef in montreal
5

ounces semisweet chocolate, chopped

3

ounces unsweetened chocolate, chopped
1⁄4 lb unsalted butter (8 tablespoons, cut into pieces, plus more for the pan)

4

eggs, at room temperature
1⁄2 cup sugar
1⁄4 cup brewed espresso, cooled to room temperature

1

tablespoon sifted finely ground espresso beans
1⁄4 teaspoon salt
1⁄4 cup all-purpose flour, plus more for the pan
Preheat oven to 350°F Butter an 8-inch cake pan (I used a springform pan) and line bottom with parchment paper. Butter the parchment and lightly flour (or use cocoa) the pan, shaking out excess.
In a small, heavy-based saucepan, melt chocolate and butter over medium heat, stirring frequently. Set aside.
Using the whisk attachment of a stand mixer, whip the eggs, sugar, brewed espresso, ground espresso beans, and salt on medium-high speed until thick and voluminous, at least 8 minutes (I mixed about 10 minutes). Turn the mixer to low and mix in the chocolate-butter mixture. Turn off mixer and sift the flour over the batter and fold until all the ingredients are fully incorporated.
Pour batter into prepared pan and bake until a skewer inserted in the center comes out clean, 25-30 minutes.
Cool in the pan on a rack for 10 minutes. Set a plate over the torte and carefully invert the torte onto the plate; peel off the parchment. Flip the torte back onto the rack to cool completely before slicing. (Since I used a springform pan, I let it cool completely in the pan.).