Chocolate Eggnog Swirl Pie
Kaleen1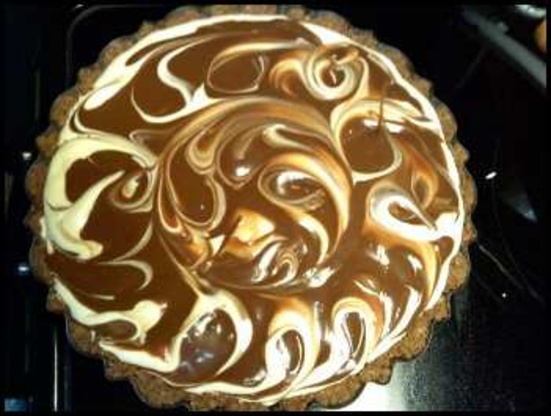 Our apartment complex issues a monthly "newsletter". This was in the February issue. NOTE: Cooking time includes chilling time.
CRUST:.
Combine first 4 ingredients.
Add melted butter and mix well.
Press mixture into 9" pie plate, or 10" pie plate to form crust.
Bake in 350 F oven for 12 minutes.
Cool on wire rack.
FILLING:.
In small bowl, stir gelatin into the cold water and set aside.
In medium saucepan, mix the sugar and cornstarch.
Stir in eggnog.
Cook until thickened and bubbly.
Cook and stir for 2 minutes more.
Stir in gelatin until dissolved.
Divide mixture into 2 equal parts; stirring chocolate into one part and rum (extract) into the other.
Cover surface with plastic wrap and cool completely.
Fold whipped cream into the rum portion.
Spoon the rum flavored portion into the cooled pie crust.
Top this with the chocolate mixture and gently swirl the chocolate portion into the white portion.
Chill at least 4 hours or until firm.