CandyTX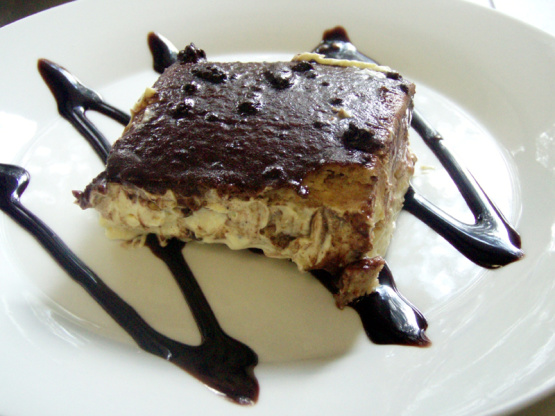 This is a recipe that was very popular in the '70's. Easy to put together and quite delicious.

My husband made this yesterday for his fellow teachers they had "memories" day at school and were to bring something that brought out some sort of memory. He chose this because a very dear friend of ours used to make this for us when we lived in Honolulu in the mid-90s. The teachers ate it up, it sure didn't last long! From 9/16/2006: I haven't had a chocolate eclair cake in a LONG time. This was SO good! We used fat free pudding, but everything else the same. Yummmy!
Filling: Mix together pudding and milk.
Fold in Cool Whip, and mix well.
Butter a 9 x 13" cake pan.
Place a layer of crackers in the pan.
Top with half of the pudding mixture, then add another layer of crackers, and the remaining pudding.
End with a third layer of crackers, and set aside.
Topping: Blend milk, cocoa, sugar and salt and bring to a boil.
Cook and stir for 1 minute, and remove from heat.
Stir in butter and vanilla.
Mix well, and allow to cool.
Spread cooled mixture on top of cake, and refrigerate for at least 8 hours.
Just before serving, decorate top with chocolate curls by peeling chocolate bar with a vegetable peeler.