Chocolate Drizzled Almonds
Sageca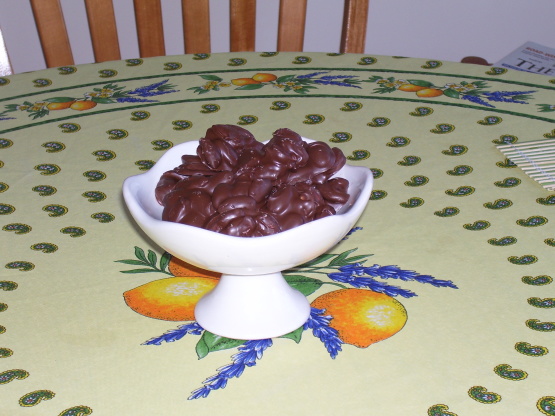 What's better then chocolate? Why, it's chocolate and almonds, silly! This comes from the Almond Board of California
Spread whole almonds in a single layer in shallow pan. Place in cold oven, roast at 350F for 12 to 20 minutes, stirring occasionally, until fragrant.
Place roasted almonds on foil, parchment paper or a serving platter.
Melt chocolate in a small bowl in microwave for one minute at medium high power. Stir well. Microwave in additional 10-20 second intervals stirring until smooth.
Pour melted chocolate into a baggie. Cut a small hole in a corner of the bag. Drizzle chocolate over the almonds in a decorative pattern.
Place in the fridge to harden.
** Try drizzling your almonds with bittersweet, milk or white chocolate -- or a combination of all three!