Redsie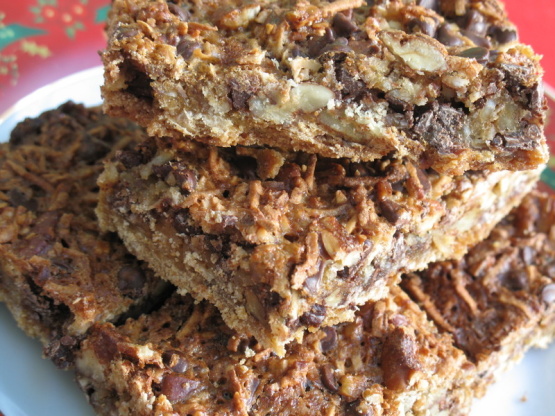 Mom used to make these from a recipe cut out of the paper years ago. The kids love them.

My grandkids really have a sweet tooth and I am always looking for something to tickle their fancy, so I made these to try. They were an instant hit and eaten and enjoyed by the whole gang. These will be made again, and I am sure soon too!
Prepare base: In a bowl, blend butter and brown sugar. Beat in milk, flour, and salt. Mix well.
Spread mixture over bottom of a greased 13 X 9 pan. Bake at 350° for 10 minutes.
Meanwhile, in a bowl, beat eggs. Stir in remaining topping ingredients.
When baked layer is done, spread topping mixture over it. Return to oven to continue baking for 20 minutes longer.
Mark into squares or bars while still warm. When thoroughly cooled, remove from pan.