Chocolate Dipped Strawberries
2Bleu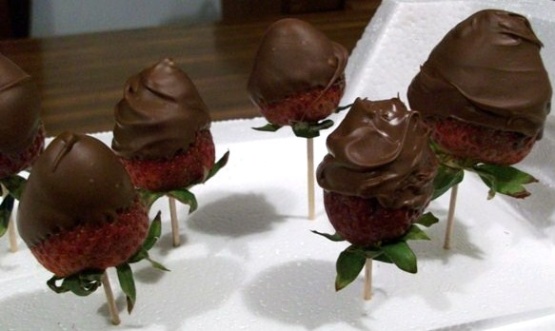 The notes listed under melting chocolate are important for the success of this simple recipe. The time it takes for the chocolate to harden isn't listed in prep time (allow a few hours). Cooking time is minimal - time for melting chocolate. Recipe source: realtor's flyer

Dark chocolate AND strawberries equals DELICIOUS!!!<br/>Very easy, but do watch your chocolate temperature, it really does make a difference!<br/>Made these to go alongside some chocolate brownies for guests, and both adults and children raved about them.<br/>A winner all round.<br/>Made for PRMR.
24 -30

strawberries, green caps in tact

6

ounces chocolate, coarsely chopped (your favorite chocolate or what is on hand, can use sweet, semisweet, bittersweet or white)
toothpick
Rinse strawberries, drying them with paper towels.
Melt chocolate in top of double boiler or in microwave (full power in 30 second intervals, until chocolate is melted, stirring often).
Note 1: CHOCOLATE SHOULD NOT BE TOO HOT - IF IT GETS TOO HOT IT WILL DRIP ON THE BERRIES INSTEAD OF ADHERING TO THE BERRIES.
Note 2: BE CAREFUL--OVER HEATING CHOCOLATE MAY CAUSE SCORCHING AND KEEP IT FROM BLENDING PROPERLY.
Insert toothpick into stem end of strawberry and dip 3/4 of berry into chocolate, leaving green cap and some of the red berry showing.
Spear free end of toothpick into a piece of Styrofoam or grapefruit to allow strawberry to dry upside down (alternatively dry strawberries on waxed paper).
Note 3: If chocolate becomes too thick to work with reheat chocolate gently.
Note 4: After chocolate hardens dip tip of berry into contrasting melted chocolate.
After the chocolate hardens discard toothpicks.
These berries are best if eaten within 24 hours, for longer storage refrigerate but serve at room temperature.