Chocolate-Dipped Spritz Cookies
icynorth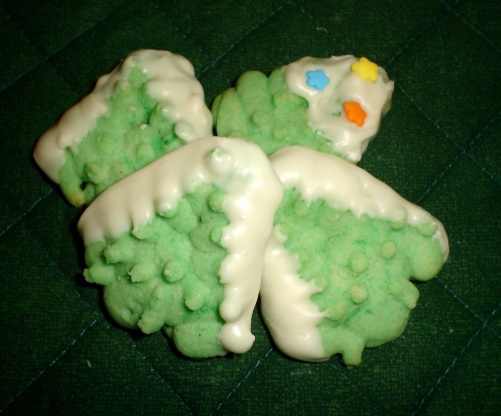 A holiday favorite, great taste and presentation on a cookie plate. Easy and ooh so good! Found in a Taste of Home cookie book

Top Review by Mizzle
First of all, it was so much fun to make my own spritz cookies! I made some normal ones and some fish shaped, for our Ichthus bible study group. (Check wikipedia for the fish-ichthus-bible study link.) The first time I made these, I felt they lacked something. I decided it was probably almond flavor and added almond extract for the second batch. This improved them to five star. I don't know how long these will keep officially, but I'm just now eating one that I baked *one month* ago and kept in a biscuit tin (sealed with a paper towel between tin and lid) and it tastes fine...
1

cup butter, softened
3⁄4 cup sugar

1

large egg

1

teaspoon vanilla
2 1⁄4 cups flour
1⁄2 teaspoon salt
1⁄4 teaspoon baking powder

11

ounces dark chocolate confectionary coating or 11 ounces white candy coating or 11 ounces milk chocolate confectionary coating
nuts (optional) or candy sprinkles (optional)
Cream butter and sugar in mixing bowl.
Beat in egg and vanilla.
Combine flour, salt and baking soda, gradually add to creamed mixture.
Using a cookie press, press dough onto ungreased cookie sheet.
Bake at 375° for 7-9 minutes.
Original recipe says not to let brown but I prefer it when the edges are slightly brown, it makes the bottoms nice and crispy.
Remove to cooling rack and let cool completely.
Melt confectionary coating and dip each cookie half way and sprinkle with finely ground nuts or sprinkles.
I usually do half semi sweet chocolate and half white chocolate and sprinkle with holiday colored non periels.
Let harden on wax paper.