Chocolate Dipped Peanut Butter Cookies
Boomette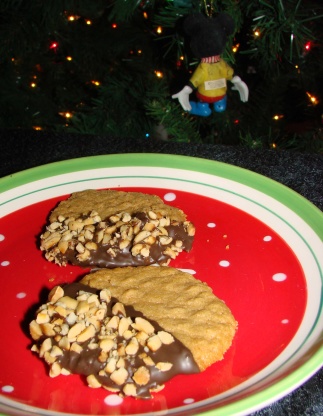 Flourless, extra peanutty and dipped in melted chocolate, this recipe rules! Adapted from Food & Family magazine.
You can't go wrong with this gem of a peanut butter cookie. They are good on their own (had to try one warm from the oven) and even better dipped in the chocolate and chopped peanuts. They look like you really slaved over them but are so easy to make! Thanks Sharon for yet another keeper from your collection.
Preheat your oven to 325*F. Mix peanut butter, sugar and egg until well blended. Refrigerate 30 minutes. Roll peanut butter mixture into 18 balls. Place 2" apart on an ungreased cookie sheet. Flatten each ball, in a criss cross pattern with a fork.
Bake 18 to 20 minutes or until lightly browned. Cool 5 minutes. Remove from cookie sheet to a wire rack; cool completely.
Dip each end of the cookie into melted chocolate, shakinig off the excess. Now dip into chopped peanuts. Place cookies on wax paper(or parchment) which has been placed on the cookie sheet. Refrigerate until chocolate hardens. Enjoy!
Note:.
To melt chocolate using microwave, heat in a microwavable bowl on high 2 minutes or until chocolate is almost melted, stirring after 1 minute. Stir until chocolate is completely melted.