Chocolate Dipped Heart Cookies
bcjewel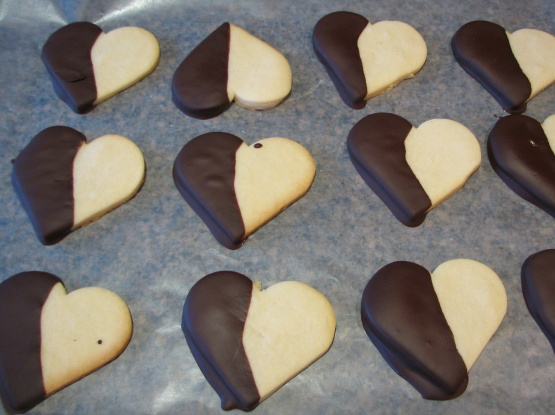 Another recipe that I saw on the morning news and wanted to share. Great for Valentines Day and your Sweetie. Recipe from Happy Cookies

I made these yesterday for Valentine's Day and they were absolutely the most easiest & delicious cookies. Instead of dipping 1/2 in milk chocolate.. i got white chocolate, added some pink colouring, coated the entire top of the cookie & dipped them in shredded coconut. They were superb! Will definately keep! They're almost like shortbread but the cream cheese gives it a great texture. Keep everything at room temperature would be my only advice for those trying it.
Combine butter, sugar, cream cheese, egg and vanilla in large bowl. Beat until light and fluffy. Add flour, beat until well mixed. Wrap in saran wrap and refrigerate 2 hours or until firm.
Preheat oven to 375°. Roll dough out to 1/8 inch thickness on lightly floured surface. Cut dough with lightly floured 2 inch heart shaped cookie cutter. Place cutouts 1 inch apart on ungreased cookie sheets.
Bake 7 to 10 minutes or until edges are very lightly browned. Remove immediately to wire racks to cool completely.
Melt chocolate chips and shortening in small saucepan over low heat, or double boiler until melted. Dip half of each heart into melted chocolate. Refrigerate on cookie sheets or trays lined with waxed paper until chocolate is firm. Store, covered in refrigerator with wax paper in between.
Makes about 3 1/2 dozen.