So easy and so beautiful! Another recipe from my "I love Chocolate" cookbook. Great for any special occasion.
4 ounces semisweet chocolate, finely chopped
2 teaspoons vegetable oil
6 ounces white chocolate, finely chopped
2 pints strawberries, with stems (or)
3 cups fresh pineapple chunks (or)
36 fresh kiwi fruit slices (or)
36 dried apricot halves (or a combination of all three fruits)
finely chopped almonds, for garnish (or pistachios)
Directions
Line a baking sheet with foil. For the chocolate coating: In a small heatproof bowl set over hot (not simmering) water, melt the semisweet chocolate with 1 teaspoons of oil. In another small heatproof bowl set over hot (not simmering) water, melt the white chocolate with the remaining 1 teaspoons oil. Leave both bowls over the hot water.
Pick up one piece of fruit at a time and dip it into the melted dark or white chocolate, coating about half of each piece of fruit. If desired, drizzle the dipped portion with a contrasting color of chocolate and sprinkle with some chopped nuts. Place the fruit on the foil-lined baking sheet. Work quickly to coat the remaining fruit.
Refrigerate for 5 minutes or until the chocolate is set. Keep in a cool place until ready to serve. (Fresh fruit should not be held for more than 4 hours before serving).
Reviews
Most Helpful
So easy and soooooooo good! I used strawberries, dipped them in the melted semi-sweet chocolate and then drizzled with the melted white chocolate. The chocolates worked really well with the vegetable oil (I had always used cream). Yummy!!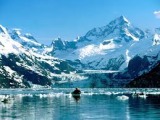 My husband made these with my granddaughter and two of her young friends, they used strawberries, milk chocolate and sprinkles on their versions. They all had a lot of fun making these tasty treats. The four of them decided that they were yummy and were quickly eaten. They were very proud of their decorating jobs. Thanks for sharing my friend, Made for Sweet December 2014.
Yum yum! As you can see, I used white chocolate and drizzled with dark. Super easy and delicious! I only did this with strawberries, though.