Chocolate Dipped Almond Anise Biscotti
Annacia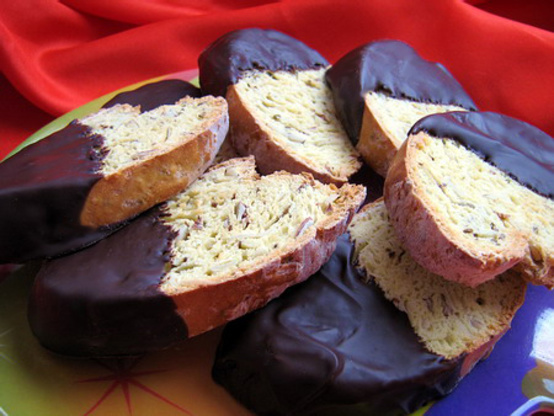 This wonderful tasting biscotti that is already on the lean side can be made diabetic friendly very easily. P.S. I should mention that if your not a dunker you'll want to bake these for a shorter time (maybe 20 mins the first time and 5 the second time).

the flavor of these were terrific, and i will be making them again to take a picture. My first attempt was a little.. less than photogenic to put it mildly :) will update my review as soon as i remake them.
Preheat oven to 350°F.
Mix flour, sugar, baking powder, anise seed, almonds and salt in large bowl.
Beat eggs, vanilla and milk in separate bowl. Gradually add to dry ingredients, when mixed you may need to knead the dough a few times.
Divide dough in half.
Roll each half into a 12-inch long log. Transfer logs to greased baking sheet. Flatten log to 1-inch thickness.
Bake 30 minutes or until slightly risen and firm to touch.
Cool logs on wire rack 15 minutes.
Transfer to cutting board.
Using a sharp serrated knife, cut logs diagonally into 3/4-inch thick slices. Place slices in single layer on ungreased baking sheets.
Bake 10 to 13 minutes or until crisp and golden.
Cool on baking sheets.
Place chocolate and oil in small microwaveable bowl.
Microwave on HIGH 1 minute.
Stir; microwave additional 30 seconds. Microwave additional 30 seconds, if needed. Stir until completely melted.
Dip each biscotti halfway into chocolate mixture.
Let stand at room temperature or refrigerate on wax paper-lined tray 15 minutes or until chocolate hardens.
Store in covered container.