awalde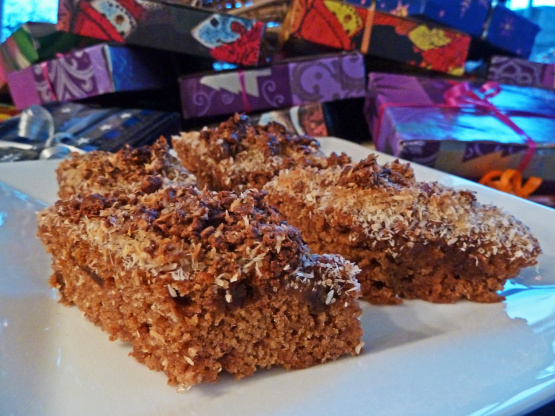 This recipe comes intact from Taste of Home's Chocolate Lover's Cookbook, Volume 2, 2003.

Top Review by awalde
As I took this recipe I was preparing Christmas cookies! The result were delicious soft brownie-like squares! My DS was more thand glad for my missunderstanding!
As in the ingredients was not specified what kind of nuts I took coconut flakes. The combination came out exotic and delicious!
Preheat oven to 350 degrees F, then grease & flour a 13"x9" baking pan.
FOR BASE ~ In a saucepam. combine dates & water. Bring to a low boil, then remove from heat & set aside to cool. Do not drain.
In a mixing bowl, cream the sugar & shortening.
Add eggs, flour, baking soda & salt, mixing well.
Add dates & mix, then pour into prepared baking pan.
FOR TOPPING ~ Combine the 3 topping ingredients, then sprinkle that mixture over the batter.
Bake for 40 minutes or until a toothpick inserted in center comes out clean.