Chocolate Cupcakes With Chocolate Frosting
ChloeM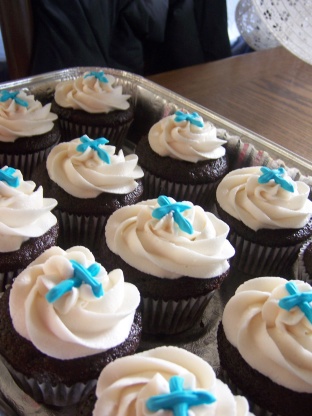 I can't seem to get enough chocolate lately and these cupcakes were among my victims. This recipe comes from a Chicago bakery called Sweet Mandy B's and these cupcakes will make you happy!

Absolutely delicious! The cupcakes themselves are light and moist with a richness running through them. Perfect crumb and texture. The frosting is delicious too, just the right consistency and richness. This will now be our go to chocolate cupcake recipe. We made them for Easter and frosted them thick around the edges with a depression in the middle. We sprinkled grated chocolate around the outer ring, like a nest, and put Cadbury's mini-eggs in the depression. Will upload picture shortly. Beautiful recipe, thanks so much!
Cupcakes: sift the flour, cocoa, baking soda, baking powder and salt into the bowl of a heavy mixer fitted with the paddle attachment; add sugar.
Turn the mixer on low and add, in order; water, milk, eggs, oil and vanilla; scrape down the sides of the bowl and beat on medium, briefly, to achieve a smooth batter.
Scoop the batter into muffin tins lines with paper baking cups; each cup should be about half full; slide the tins onto a baking sheet and bake at 325° until a toothpick inserted into the center comes out clean, about 30 minutes.
While cupcakes are cooling, prepare the frosting.
Frosting: Cream the butter in the bowl of a mixer, using the paddle attachment; beat in the corn syrup, vanilla and salt.
With the machine off, spoon in the cocoa; carefully turn the mixer on low so as to avoid death by cocoa inhalement; do likewise for the sugar, in three parts; last, add the cream then beat until fluffy.
.
When the cupcakes are completely cool, frost generously and shake on some sprinkles if you like.