Chocolate Cupcakes With Cheesecake Centers
eabeler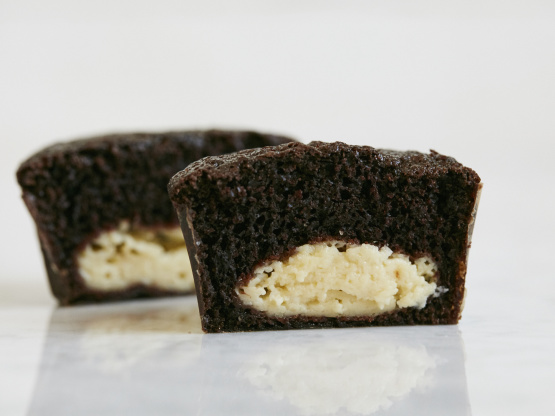 Rich chocolate cupcakes are made even better with a thick and creamy cheesecake center.

I put the cheese cake filling into a zip lock baggie, removed the air and inserted the filling easier and better looking into the center of the cake. I added a single serving container of unsweetened applesauce to the cake batter and it made it moister and tastier, too. Next time, I'll put about 4 oz. of softened cream cheese to the batter, for taste and moistness.
Heat oven to 350º.
In a large bowl combine flour, 2 cups sugar, cocoa powder, baking soda, and 1 teaspoon salt.
Add water, oil, vinegar, and vanilla. Beat for two minutes until well combined.
Pour batter into paper lined muffin cups about 2/3 full.
Mix together cream cheese, egg, 1/3 cup sugar, and 1/8 teaspoon salt until well combined. Spoon 1 tablespoon of this mixture onto the center of each cupcake.
Bake for 20 to 25 minutes.
Cool completely.