Kim D.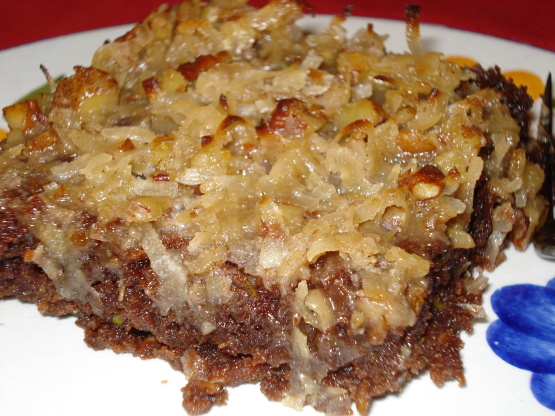 I created this recipe to use up the abundance of cucuzza squash I have growing in my garden. Cucuzza is a long green Italian squash with a mild nutty flavor. If you don't have cucuzza, you can substitute zucchini.

Excellent recipe! Very moist and flavorful when following the recipe exactly as is. Was a bit on the soft side. Next time I'll ensure I squeeze the water out of the cucuzza or cook just a few minutes longer. Didn't hurt the taste at all though as I found it very addictive--so did everyone who tasted it. Be forewarned, it's very difficult to stop at just one piece!
Preheat oven to 325°F.
In a large mixing bowl, combine butter, oil and sugar, creaming until smooth.
Add eggs, one at a time beating well after each addition.
Add vanilla and beat well.
In a separate bowl, combine flour, baking soda, baking powder, cinnamon, and cloves.
Add dry ingredients to the creamed mixture, alternately with buttermilk.
Stir in shredded cucuzza.
Pour batter into a greased 13X9-inch baking pan.
Bake for 45-50 minutes until done. You can test to see if the cake is done by inserting a toothpick near the center of the cake and see if it comes out clean. If it does, it's done.
Allow cake to cool on a wire rack for about 10 minutes.
Meanwhile, in a medium mixing bowl, combine all frosting ingredients.
Spread over warm cake.
Broil in oven approximately 4-6 inches from the heat for about 2-3 minutes. Be careful not to burn, it will broil fast!
Cool cake completely before serving.
~NOTE~ You don't have to peel or seed the cucuzza, just wash the outside skin with warm water and pat dry before shredding.